5:47 - 7:12 pm - Economy/Energy Meeting,
Cabinet Room
View:
---
Please click on images to enlarge them
Photograph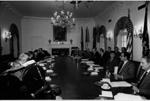 A4254-9. President Ford meets with his advisers for an Energy/Economic meeting in the Cabinet Room. April 28, 1975. (left to right: Federal Reserve Board Chairman Arthur Burns; Treasury Secretary William Simon; Vice President Nelson Rockefeller; OMB Director James T. Lynn; Domestic Council Director James Cannon; Domestic Council Deputy Director Richard Dunham; Deputy Assistant Dick Cheney; EPB Director Bill Seidman; Commerce Secretary Rogers C.B. Morton; President Gerald R. Ford; OMB Associate Director Frank Zarb; CEA Chairman Alan Greenspan; Counsellor John Marsh. Against the wall EPB Executive Secretary Roger Porter and three unidentified men.


---
Meeting Agenda
The White House
Washington

April 26, 1975

Economic and Energy Meeting

April 28, 1975
5:30 p.m.
Cabinet Room

From: L. William Seidman

PURPOSE

To review energy program alternatives.

BACKGROUND, PARTICIPANTS AND PRESS PLAN

Background:

The Weekly Economic Fact Sheet is attached at Tab A. The Economic Policy Board Weekly Report is attached at Tab B. This meeting is to report on the outcome of the energy negotiations with the Congress and to consider energy program alternatives. An options paper on the energy program alternatives is attached at Tab C.

Participants:

The Vice President, William E. Simon, L. William Seidman, Rogers C.B. Morton, Frank G. Zarb, James T. Lynn, Alan Greenspan, Arthur F. Burns, Richard Dunham, Donald Rumsfeld, John O. Marsh.

Press Plan:

White House Press Corps Photo Opportunity.

AGENDA
•

Energy Program Alternatives


Rogers Morton and Frank Zarb will review the recent negotiations with Congress on the energy program and alternatives for May 1 decisions on energy.
---
The President's Talking Points



Presidential Talking Points for the 5:30 Meeting on May 1 Energy Action

1. Rog Morton, I understand that Frank [Zarb] and others have been working around the clock with the Congress to reach some compromises on our energy program. Before discussing the options paper I think Frank should bring us up to date on these discussions.

2. Would anyone else like to add their views on the current situation?

3. Frank, why don't you go over the options in the paper and generally describe the advantages and disadvantages of each?
---
Executive Protective Service Log of Meeting Attendeees
---